April 18th, 2011 by kamkuey
So let's get it out of the way.
No matter what smartphone platform you are using, be it Android, Blackberry, iOS or Windows Mobile, it's still a smartphone. Which is the best is up to you. Do not go around and belittle the other because :
1) You are not making any money out of it
2) You are basically mocking yourself for mocking other platforms
So what if your platform has got more apps? So what is your platform has got flash support? Get real lar. It's a phone, maximise it instead of telling others how bad their phone is. That's childish.
Just enjoy la your phone.
So with that out of the way, let's dive into the HTC HD7.
I know it's not anywhere near new. But I just got my hand on the phone. So please bear with me. There are a whole lot of reviews out there. But there was none I could find to fuel my curiosity regarding the new smartphone OS.
The phone came in the standard HTC slide out box. Included inside are the adapter plug, USB cable for charging and syncing, earphones, some documentation as well as the phone itself. Nothing special. Was hoping for a case, but there's none. 
So.. the phone. Glorious 4.3" screen.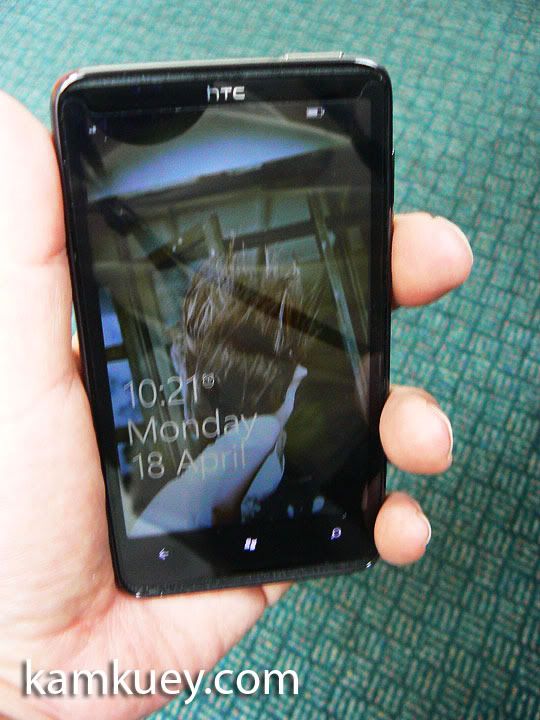 It's big, bright and wonderfully pleasant to use. PS – sorry for the bad photo quality. hahaha. Promise to get better photos next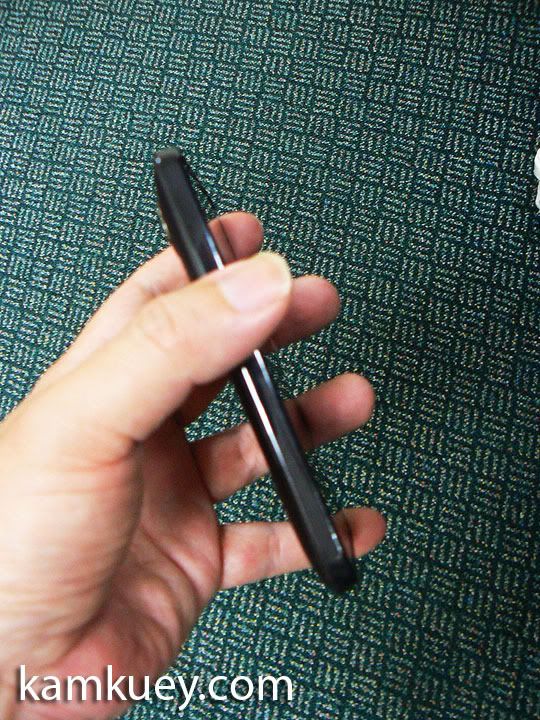 And it's very slim as well. I like!
The back is rather standard except for the build in kick stand which is rather sturdy.. surprisingly. I was half expecting a flimsy stand.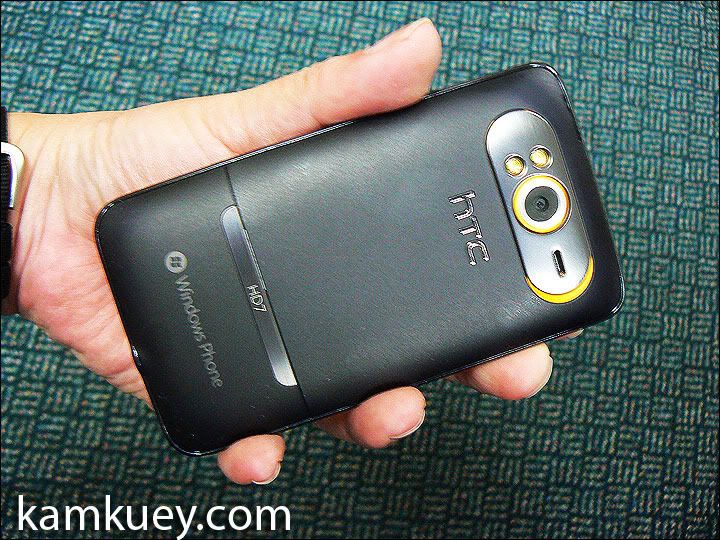 The phone is big. But it's not THAT big until it's big enough that you would rather leave it at home. You can still easily pocket it. Even in my shirt pocket. My short pants pockets had no problems with it, and I am sure that the phone will fit nicely in my jeans pockets as well.
The one thing which I REALLY like about this phone (or rather the new Windows Mobile OS) is its presentation.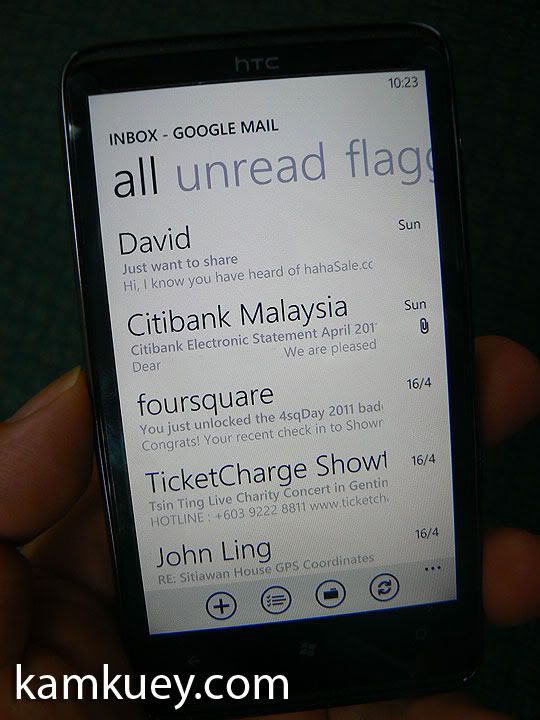 Everything is big.. with large easy to read fonts and minialistic icons which rotates rather neatly according to your phone orientation. Android's emails and fonts are probably rather function, but these are useful. hehe. I like!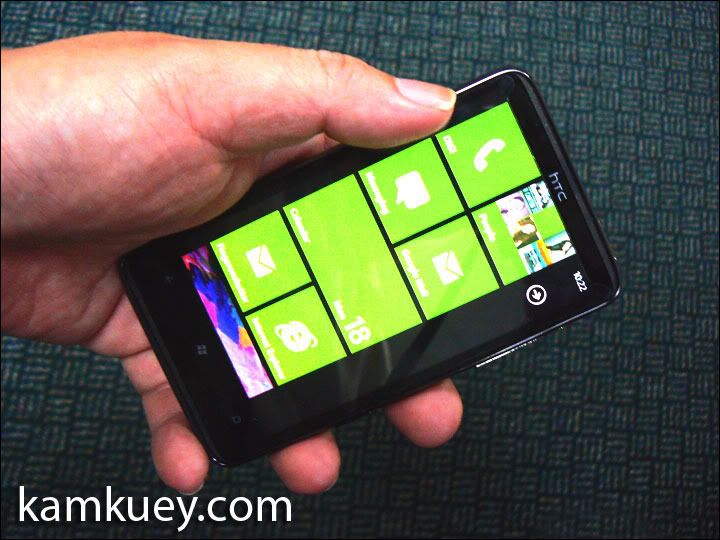 The home tiles are easy to use. Rather basic and I would prefer a more standard 'pages' instead of one page with large tiles to scroll. But it will do. No complains, just preference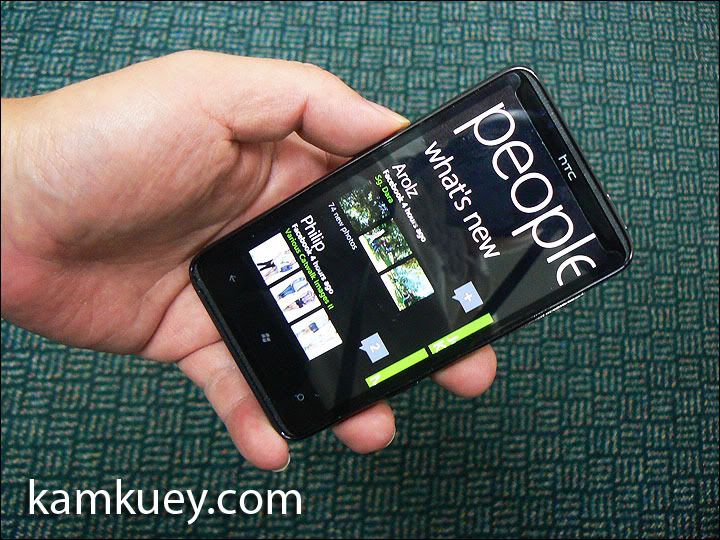 People in the HD7, or rather contacts, is deeply rooted in facebook. Here you see updates of my facebook contacts. Unfortunately I have a whole new list of people in my phonebook now because Windows Mobile directly brings in my facebook contacts into the phonebook. And because I like to my google contacts, I now have two contacts in my phonebook. But it's ok, the search function is still not too bad.
So, everything good about the phone?
Well, I have had the phone for less than a week. Probably 4 days. But here's what I found out. Firstly, the battery life is horrendous. A fully charged battery at 7am will run out of juice by 2pm. And and it I do a little gaming or youtube or some online status checks and all that, it will drop even faster.
There's no bluetooth file transfer :S Come on Microsoft… what's with this? Bluetooth file transfer is probably one of the most basic function of a bluetooth. But hey.. Android and iOS also started with bluetooth file transfer so that's no surprise. Hopefully they include bluetooth filetransfer as an update instead of a completely new version of the OS.
Good news is that it now has cut and paste. hahaha. I know, a little behind but at least it's here. When I first got the phone, it was without cut and paste function. Rather annoying but the  March 2011 update solved it.
The other thing which is annoying is how the apps work. Everything is online. For example, the Facebook application is a real time online app. You launch it and it loads it's content. It's everytime you launch the application, it reloads everything. Same goes to FourSquare and Twitter.
But all those drawbacks ain't gonna cut it for me. The one thing which puts this phone in my 'like' list is it's screen and how the OS presents itself. Also, I notice that because the screen is bigger, typing is such a joy now. So it's a plus point for me there.
So there you go… a short preview of the HD7. We shall have a more in depth review coming up soon. Still have yet to try out the camera function.
But here's a quick photo sample of a fish head noodle for your reference. I thinking it's a little under exposed.
And again, sorry for the handshake photos. Promise to take better pictures next