March 11th, 2009 by kamkuey
Ever since i got my bike, I have not actually used it to go off road or do some downhill action.Well, my bike not very suited for downhill action anyways. I have been going to a park nearby my place. It's big enough to ride around with a good mix of flat and hilly paths.

It's quite refreshing actually. Not many people around and with a stream/pond to boot. Not that I can jump in or anything.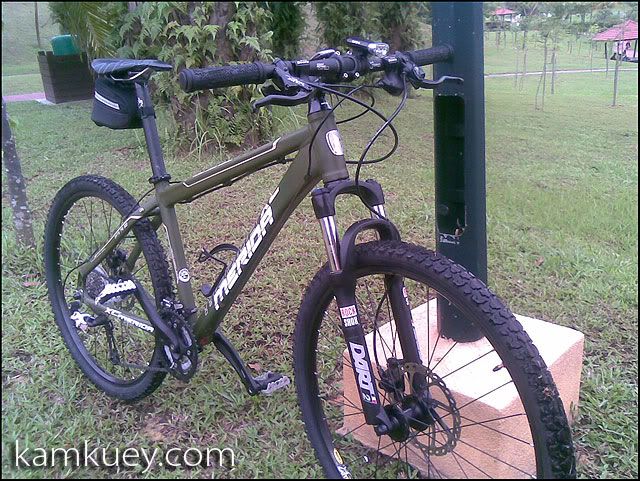 My bike looking very clean. Notice that I got some extras for it.
Firstly a saddle bag. You can see it right behind the saddle or seat. This is where I keep my keys, wallet and handphone while riding. Stuff in your pants pocket quite distracting especially while pedaling. I got the Topeak Wedge which can be expanded should I need to put more stuff in it.
Then there's the lights. You can see it perched on the handle bar. I got the Cat Eye. The rear light (also Cat Eye) is stuck on to the saddle  bag. Not that i do a lot of night riding, but at times, when i get back from work and get stuff done, it's already 7.30pm. Still got a little light, but best to have my own to ensure max visibility.
Oh.. then the bottle cage.. and lastly a cyclo-meter from Cat Eye again. ahhaha. Keeps track of how long i have been cycling and how far.
Most of them.. under-utilised. But it's ok.  hahaha… soon.. soon…